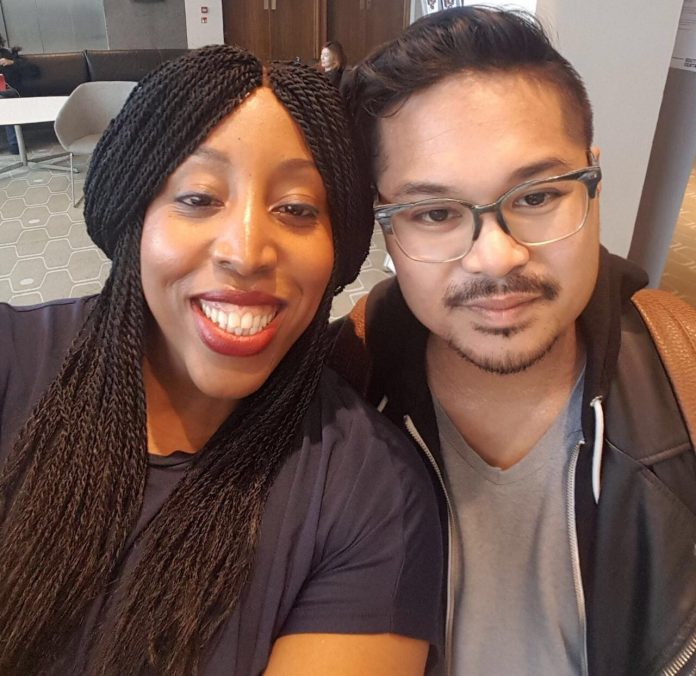 The outloud series is a platform where we feature on creatives who are not interested in business as usual but are stepping into their own and defining what it means to shine out Loud.
On this maiden edition of the series, we are doing a feature on Erman Baradi, a screen writer, podcast host and a "hot cake" in Hollywood. Erman was on the Shine out Loud Show a few weeks back and we just couldn't have enough of him.
Sit back, Relax, Grab a cup of coffee (or whatever works for you) as we take you through this awesome ride with Erman Baradi:
What drove you to create MixKnowledgy?
I had a successful run with another event series and I met my current business partner Brandon Waites as a volunteer of mine at my April 2016 conference.  MixKnowledgy is a play-on words, coming "mixology" and "knowledge."
We combine elements of entertainment forums and mixers, but we typically do all-ages events.  The concept stems from attending panel events that lacked the intimacy needed to connect to a guest speaker and the "town hall" drabness felt at most. I wanted a full experience. So, we typically have a red carpet for media and photo ops, a live DJ, and a mixer or after party in addition to the panels. Also, as a screenwriter it allows me to connect with the right people without going the typical writer route.
As a script-writer how important is it to tell the narrative of those not normally seen?
I have a crazy story to why I wanted to become a storyteller; Aside from growing up a liar – a bad and good one depending on who you ask – I always loved a good story.
 I was one of the gifted students in elementary school so I would go on to attend a magnet school for middle school. I immediately realized I didn't understand the material like most of my classmates, so, soon enough my notebooks consisted of storylines and quotes instead of math equations.
I didn't give up per se but I found another outlet to stay occupied. At that point, I had the option of either joining acting class as an elective or orchestra. I didn't see many Asian Americans who looked like me on TV so I chose orchestra. I was terrible. I was always one of the last chairs. I didn't have a passion for it. I chose it because I felt it was expected of me – A Filipino playing the violin? Go figure.
I think we have so much to offer besides being the "comic relief." There was a trend last year where people would recreate movie posters with John Cho as the leading male. It was hilarious and thought-provoking at the same time.
Who is Erman Baradi?
A go-getter!
I like to think I work hard but I don't want people to think I'm not a personable guy. I do everyday things like the next person or whatever it is people do in Virginia Beach, Virginia. I'm not "Hollywood" yet. I'm still trying to break in but I just happen to know the right people after years of networking.
My career goal is to be a working screenwriter in television and film. Back home, I'm trying to get my acting game on some more as I do enjoy it.
How did you go from Intern to the red carpet?
That is a LONG story; I finished college in 2012, Spent weeks upon weeks emailing Hollywood companies in search of an internship. I literally sent hundreds to small companies and big companies. It didn't matter to me; I finally got a bite with Mosaic. Things kind of snowballed after I interned in West Hollywood. I came back home after it wrapped up, but before that I created a social media name Erman_LA. I kept it when I came back to the east coast and started chatting it up with creatives out west. One thing led to another and folks in LA started hiring me for events and other fun gigs. The "LA" part of my name made people thing I lived there. Eventually, I wanted to get more into writing. I found a gig on Twitter with entertainment digital magazine Vents Magazine and emailed them. I got the gig without ever doing an interview in my life. So, I spent my last few bucks on me to purchase a copy of Rolling Stone. I observed how people interviewed and wrote articles. The gig is pro bono but I did it to make connections with musicians, actors, writers, directors, producers, which eventually led to collaborating with them for a film festival.
I was in charge of producing panels here in the States since the magazine's founder lives in Dominican Republic. The gimmick was to have three events – NYC, LA, Dominican Republic – so I produced events in NYC and LA a week apart. I had very little experience prior to that except for music shows I'd put on in Virginia. I threw myself into the fire and just did it. People responded to it so I figured I'd keep doing them.
Meanwhile, I'd keep applying to industry jobs and no one would respond. I could have given up. Instead, I did my own thing. 13 events later, we've had over 100 speakers like producer Lauren Shuler Donner (X-Men franchise), casting director April Webster (Star Wars: The Force Awakens), and Bad Robot COO Tommy Harper, (producer Gail Barringer (Luke Cage), actress Ta'Rhonda Jones (Empire), casting associate Jackie Sollitto (The Flash, Arrow), Rachel Polan (Lionsgate TV), executive producer Mandy Teefey (Netflix's Thirteen Reasons Why), Rachael Wesolowski (publicist, Bryan Cranston, Alison Brie, Thomas Middleditch), commercial agent Liz Dalling (Chris Hemsworth, Kerry Washington, Mel Gibson), director James Foley (House of Cards, Fifty Shades Darker), talent manager Byron Wetzel (Michael Shannon), Academy Award-winning writer Alexander Dinelaris (Birdman), screenwriter Doug Jung (Star Trek Beyond), executive producer Gary Pearl (Jane the Virgin), composer Mac Quayle (Mr. Robot, American Horror Story), casting director Kerry Barden (Spotlight, Jessica Jones), CAA commercial endorsements agent Rick Lucas (Neil Patrick Harris, Jason Statham, Lena Headey), casting director Marci Liroff (E.T., Indiana Jones, Poltergeist), casting associate Bess Fifer (Stranger Things), talent manager Jason Barrett (Zac Efron, LL Cool J), ICM talent agent Carter Cohn (Samuel L. Jackson, Sebastian Stan), entertainment lawyer Jeffrey Bernstein (Margie Robbie, Norman Reedus, Judi Dench, Kit Harington, Natalie Dormer), among many others. 
We've been blessed for sure. I'm grateful to be able to make these connections.
If you had to tell your story as a person of color in America, what genre would you pick?
Dramedy –  That's life, right? Life is never just funny or just serious or dramatic. I think to capture the essence of diversity in America; you have to capture a certain realistic tone. There should be a balance. You shouldn't write about race in a too preachy manner. If your group of friends consist of a Caucasian, an African American, a Hispanic, and an Asian, and you're sitting around, you don't talk about culture the whole time. At some point you see past skin color and see your friend as a friend, not a box or quota to check off. To express inclusivity or togetherness, show that in your characters.
With the introduction of a range of diverse movies, is Hollywood ready to embrace more color and diversity?
I think the industry is open to it. Now it's just a matter of seeing if they will actually do it. It is funny not to get political, but you see a lot of the industry protesting and standing up for equality, which is fine. But take a look at the industry you're working in. Does it reflect what you're protesting for? 
How do you manage your personal life and your various commitments?
Luckily, I wake up in my office. As long as I have my phone on me and can check my emails and post on social media, I'm good to go.
Do you think that the way Asian are represented in Hollywood movies, needs to be updated?
I haven't seen enough of them to make a call on that. Maybe instead, I could give an example of a show I think does it well. I love Fresh off the Boat because while there's obviously display of culture, they let the kids be normal kids in school.
I believe you should write what you see. If you come across an Asian who eats rice and drives like they do in Tokyo Drift, then who is someone to deny your experience, But in the broader sense, yes. I feel like when I see an Asian come on screen there is too much emphasis on him or her being the "Asian character." Or they have some purposeful quirk to them to highlight the fact they are different. I say write an Asian character that is interesting based on personality and not skin tone or diet.
What do creatives of color need to do to gain a foothold in Hollywood?
Work hard. Give them a reason to look past skin color. I do love how there is now more focus on the lack of diversity in the industry, but at the same time no one should get a freebie. Work hard and network and find a way to stand out, but stand out through your works.
You also host a monthly Podcast featuring directors and directors, what is the top three things you have learned from your guests?
There is no one way to make it in the industry. While it's meaningful to hear how others broke in, it's important to know advice is meant to inspire, not copy. Another thing is, there's no replacement for work ethic.
Lastly, it's not something that was said by anyone, but you get a sense of it by everyone interviewed. It's something I live by. When you don't have an answer, create one. When no one wanted to hire me, I hired myself. This past November, I was featured in The Huffington Post last November as a "Top Networker in Hollywood." It took time but things are coming together.
What's next for Erman Baradi? Tell us more about your future projects.
We have some exciting meetings coming up. If they go well, then you can officially call us "Hollywood." I can't reveal too many details.  
As for the things you already know about, yes, we have some indie projects in development we hope to working on this year. We are writing a contained horror film, a supernatural horror called Subliminal in collaboration with a Brazilian duo we actually met at one of our events last November in LA.  Gunhand is a western you should Google; it's a western we are doing with filmmakers out in Europe. We reached out to them after finding their teaser online.
As far as events go, we are planting seeds in new locations like Toronto where we haven't gone before. We have a "Women in TV & Film" panel in London on April 20th in partnership with UK-based Bluebird Pictures. It will celebrate women but also have female and male panelists.
So far, we have The Crown producer Suzanne Mackie, agent Sue Latimer (reps Daniel Radcliffe, Freddie Highmore), producer Steve Clark-Hall (Sherlock Holmes: A Game of Shadows), and more.
We're working on a Latina-centric festival in South Florida with our friends at Cian Entertainment. We are returning to my home state of Virginia for our second Hollywood conference there on April 29th. Rachel Polan, Director of Television of Lionsgate and named by Variety among New Leaders in Television 2016 is attending, in addition to my own literary manager Whitney Davis. We have more surprises and confirmations soon. NoHo Cinefest is collaborating once again for their panel event night on March 30th to close out its weeklong festival in North Hollywood. I have a side project, a music panel, that's in Downtown LA on February 22nd featuring speakers like April King, agent to Machine Gun Kelly, Jhene Aiko, Nelly, and others, and composer Jake Monaco who contributed music to Frozen and The Hangover trilogy.
My business partner Brandon and I are super thrilled to announce the launch of our sister company, The Film Empire. It's for our first ever Hollywood mentorship contest where filmmakers can submit their films for a chance at a trip to Los Angeles on us, a guest spot at our next big LA conference in late July, and most of all mentorship meetings with over 20 Hollywood pros. The mentors represent the filmmaking process as a whole, from development to post. To list a few, we have the likes of TV writer and producer Bekah Brunstetter (This Is Us), executive producer Lauren Selig (Hacksaw Ridge, upcoming Jumanji), composer Lesley Barber (Manchester by the Sea), producer Peter Lawson (Spotlight, John Wick), cinematographer Ben Davis (Doctor Strange, Guardians of the Galaxy),editor Michael Shawver (Marvel's Black Panther, Creed, Fruitvale Station),, TV director Joshua Butler (The Vampire Diaries, Pretty Little Liars, The Magicians), editor Dan Liu (The Walking Dead), Constance Tillotson of LA Management (reps Academy Award-nominated writer/producer Alan Wenkus of Straight Outta Compton), and more.
Look out for details in the oncoming weeks! Follow us on Instagram: @TheFilmEmpire and on Twitter: @The_Film_Empire for reveals.
Follow MixKnowledgy on Twitter and Instagram: @MixKnowledgy and me on Twitter and Instagram: @Erman_LA.
Join us every Wednesday by 8pm (GMT) on the Shine Out Loud Show as we celebrate and connect with incredible creatives and individuals within the Black, Asian and Mixed heritage community on our shores and further afield.
Listen live Here and follow us across our social media platforms Twitter   Instagram